I TAKE THE HITS FOR YOU SO THAT ALL LINKS ARE
VIRAL SAFE
AND ALSO ALL LINKS 'OPEN TO NEW WINDOW'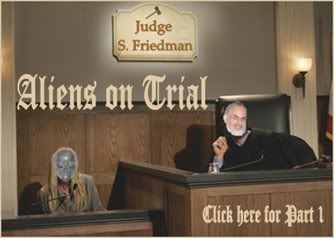 Click picture for part 1 - part 2 is in UFO and Alien Articles
UFO Stalker - UFO sighting - Tipton, MI
Flintshire mayor calls for witnesses after seeing UFO
Two UFO Sightings in Germany
More on yesterday's UFO sighting
Cumbria police investigate UFO sighting over Penrith
Eltingville, Staten Island, NYC Flaming Object
UFO Stalker - UFO Sighting Mexico - photos
UFO Stalker - UFO sighting - Lisle, IL , Oct 1
Strange Dancing Lights
UFO Stalker - UFO Sighting - New Middletown, IN
Canada UFO: Edmonton, Alberta A Triangular UFO
Zionsville, Indiana A Very Bright Elongated Shaped UFO
Staten Island, New York An Orange Reddish Flame
Fort Erie, Ontario A Large Triangular Shaped UFO
UFO Media Matters Aliens on Trial - By Joseph Capp - Part2
UFOs and Government Surveillance
Aboriginal elders suggest Extraterrestrial mass deception: Part I
Gnostics provide Extraterrestrial related insights: Part II
The aliens are among us
Major economic crisis, UFO visitation...
A Shag Harbour UFO? Ruth doesn't think so
Pt1
The Human Condition - The Akashic Records
UFO conference in Massachusetts - Oct 17th 7pm
Million fax on Washington - Earth's Citizens Demand Disclosure
White house in transition - Nov 5 - Jan 20
UFO ERA: Review of book - "Intruders" - 1987
Why Aren's UFOs Ever Tracked by Radar? - The Hive
Videos: Close Encounters - Making extraterrestrial contact
Tired of waiting for UFO Hunters Season 2? Me Too!-See teasers
Pendulum 'Granite'
Daily Grail - News Briefs - Oct 2
Ghost experts gravely explain
Paranormal Poll: Message from Beyond
Is there a ghost in Estacada?
Ghosts may haunt Meredith library
BoingBoing Review:
Neil Gaiman's "Graveyard Book"
The Power of Unconscious Thought
Videos: NZ Paranormal TV - Episode 6
Struck by a Coincidence - True Tales
Haunted: Devenger Road, SC
Ghost conference - Jefferson, TX - Oct 4
Japanese Air Base Ghost Video
Videos: New season-Most Haunted-Gettysburg Ghost
Paranormal investigator to speak at historical meeting
Some spooky sites in and around the city
Terri Rainer: October is Here!!!
Victorian Ghost - True Tales
Chattanooga: Paranormal private eyes
Psychics, Mediums, Clairvoyants and Sensitives
Spirit talker leads ghost hunt
Haunting evenings at Chambercombe Manor
Ghosts of the White Horse Inn, Tonbridge
Nothing Can Hold Me Back - True Tales
Spirits abound at house in Appleton
Ghouls, ghosts and goblins return to Hudson House
Ancient Bowl Engraved "Christ the Magician" Discovered
Recipe: Ghosts in the Graveyard
Recipe: Volcano of Doom
Recipe: Witch Hat Centerpiece
Recipe: Witches Brew
Recipe: Witc hes Broomsticks
Yard Ghosts: 31 Days of Halloween
Yard ghosts: Halloween Decorations
Yard Ghosts: Tree Ghosts
Radio: UFO expert on radio - UK - Oct 2
Radio: L.A. Steel Show - Paranormal - Oct 2
Radio: Paranormal World - Oct 2
Radio: INsight Paranormal w/Kristen Perkins - Oct 2
Radio: PRRS - Open discussion - Oct 2
Radio: The Paranomaly Radio Network - Oct 2
Radio: What is the real UFO Space Alien - Oct 2
HMPR Radio - Paranormal and EVP - Oct 2
Radio: Paranormal Reality-demons and ghost talk-Oct 2nd
Radio: Paranormal and Ghosts talk - Oct 2nd
Radio: Famously Haunted - White Noise - Oct 3rd
Radio: Annette Martin to Appear on the P.O.R.T.A.L. - Oct 3
Radio: Alien Agendas w/ guest James Gilliland - Oct 3rd
Radio: Joliet Paranormal - Oct 4th
Radio: Michigan Paranormal - Oct 4
Radio: Psychich Channeler Michele Meiché Ph.D.- Oct 5th
Radio: The Hauntings - Oct 5
Radio: MASS Paranormal - ghost and hauntings - Oct 6th
Radio: Reincarnation, NDE's, OBE's, Ghosts - Oct 6
Radio: One Step Beyond Reality w/Psychic Sonya Show-Oct 6
Radio: Pet Talk with Tim Link - Oct 7
Radio - All Things Paranormal - Oct 7
Radio: Eastside Paranormal
Radio: Michigan Paranormal Underground Radio
Radio: TOGA Talk All Things Paranormal
Radio: Haunted Southern Nights w/Chris Fleming
Radio: Horoscopes and Paranormal
Radio: Mass Paranormal
Radio: Farah Yurdozu: Turkey's top UFO investigator
Radio: Reincarnation, NDE's, OBE's, Ghosts
Radio: Royce Holleman - Christianity & Paranormal
Supernatural: In the Beginning - Oct 2, 9pm
Psychic Investigators: How Dark the Woods-Oct 4, 11:30pm
Psychic Investigators: Lynsey Quy - Oct 4, 11pm
New Clip From Ghost Hunters
Psychic Investigations: 25 Video clips
Paranormal Zone - 12 Video Clips
If server is down for these next three - try later
Reflections of NASA - NASA turned 50 years old Oct 1
Is the Planet Trapped in a Space-Time Bubble?
"Dynamo Effect" of Galactic Magnetic Fields
****

****

****

****

September Archive
*August Archive *July Archive *June Archive