I TAKE THE HITS FOR YOU SO THAT ALL LINKS ARE
TROJAN & VIRAL SAFE
AND ALSO ALL LINKS 'OPEN TO NEW WINDOW'
UFO Stalker - UFO sighting - Massachusetts
UFOs Over Bendigo, Victoria, Australia
Pair spot UFO over Sutton - looks like lanterns again
UFO Stalker - UFO sighting - Miller Grove, Texas
UFOs over airport in Mexico
UFO sighting over Philadelphia at Springsteen concert
Orange orbs in UFO sighting
Outback station stalked by UFOs... again
UFO over Hyderabad, Andhra Pradesh - India
NEW UFO VIDEOS





Kaikoura UFO sighting to be reenacted - but will ET show up?
Briefings and the ethics of contact!
Gallup annual UFO film festival - October 25, 2008
Are UFO aliens really "aliens"?
Bucks County Black Triangle UFO?
Argentina: A Strange Incident from 2002
The Gralien: Presidential UFOs (Continued)
Fastwalkers Open Files: A Series You Must See
North Wales UFO spotters' map - cool widget idea
UFO ERA: UFO books - 1987
Group wants next president to disclose truth about UFOs
Videos: Stories ofalien abduction - Paranormal TV
Brookhaven scientist confirms UFO crash site at Socorro
People try and contact aliens
MoD spins out UFO X-Files with speedy redact technology
Joshua P. Warren to Sell the Georgia Hoax Bigfoot "Body"
Daily Grail - News Briefs - Sept 9


Horsham teenager's poltergeist fears
Paranormal conference returns to Allegan
Supernatural
Catching ghosts and wringing reality right out of them
True Tales: Death Knocks
Constantine, OK welcomes ghost hunters
Ghost Village where kids learn about the paranormal?
True Tales: Ghost of Morrow Road
Superstition and religion aren't interchangeable terms
Daily Gra il - Baby Mind Reader Failure
True Tales: The O'Brien Haunting
Videos: Reincarnation - Bethany's past life experience
Video: Harriets Ghost - Paranormal TV
Video: Willow Hotel's evil spirits - Paranormal TV
Baker Books w/Chris Balzano of MASS Paranormal Crossroads
Library hosts Ha-Ha-Halloween w/SE Paranormal Investigators
Haunt Walk to feature stories about local ghosts - Alabama
Ghosts and much more on events slate for New Bern, NC
Historic hotspots attract some interesting guests
Graveyard tours focus on the history of Farmington, CT
A Look at Haunted Cemeteries
Ghosts of coastal Maine revealed
Ghost Tours: Sockport, England
NEW PARANORMAL VIDEOS





Recipes: Monster Finger Sandwiches
Recipe: Monster Mouths
Recipe: Monster Munch
Recipe: Monster Sandwiches
Decorations - Halloween Door Trim
Decorations- Haunted Curtains
Decorations - Haunted bathroom
Decorations - Halloween Signs
Halloween Jokes: Vampire Jokes
Radio: Paranormalist - with Marie D. Jones - Oct 9
Radio: Coast to Coast - Fatima Secrets - Oct 9
Radio: Paranormal Speakers - Oct 9
Radio: Keeping an Eye on the Unseen World - Oct 9
Radio: Shadows in the Dark Gabfest - Oct 9
Radio: Paranormal Reality - Oct 9
Radio: Paranormal Society of PA's Rick Fisher - Oct 9
Radio: GCOM Para Radio - Oct 10
Radio: Haunting Encounters - Oct 10
Radio: Beyond The Edge - Oct 10
Radio: Haunted Hunters - Oct 11
Radio: Michigan Paranormal - Oct 11
Radio: Ghosts & the paranormal - Oct 12
Radio: ISIS Paranormal w/polygrapher - Oct 12
Joliet Paranormal Radio - Oct 11
Radio: Psychic/Mediumship - Oct 13
Radio: Mass Paranormal - Oct 13
Radio: Parallel Worlds - Oct 13
Radio: Lights Out w/Betty & Barney Hill niece - Oct 13
Radio: Beyond Logic - paranormal
Radio: Spirit Finders
Radio: Paranormal News w/Bonnie Vent-spirit advocate
Radio: GCOM Paranormal Radio
Radio: The Paranormal World
Radio: Eastside Paranormal
Radio: Michigan Paranormal with MASS Paranormal
Radio - All Things Paranormal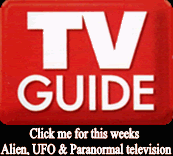 Click TV Guide for all weekly UFO,
alien and paranormal programming
Sci Fi: Schedule for Oct 9
A Haunting - Gateway to Hell - Oct 9, 2pm
A Haunting - Dark Forest - Oct 9, 3 pm
Cassini To Buzz Enceladus Oct. 9
'Cosmic Eye' Helps Focus on Distant Galaxy's Formatio
Telescopes Capture the Beauty of Star Creation
US Air Force Moves Forward with New Digital Warrior Unit
Satellite Data Reveals Extreme Summer Snowmelt in Arctic
****

****

****

****

September Archive
*August Archive *July Archive *June Archive