.
IF IT HIT THE INTERNET TODAY,
YOU'LL FIND IT BELOW
.
I TAKE THE HITS FOR YOU SO THAT ALL LINKS ARE
TROJAN & VIRAL SAFE
AND ALL LINKS OPEN TO NEW WINDOW
UFO Stalker - UFO sighting - St. Joseph, MI
UFO Stalker - UFO sighting - Grand Junction, CO
Cellphone video of UFO sighting in Aguada, Puerto Rico
UFO Sighting Reports From HBCC - Dec 27
Colyton In Devon, UK Two Circular Orange Colored Lights
Somerton Road, Breightmet UK Bright Egg Shaped Object
Culcheth In Cheshire, UK Six Yellow/Orange Objects
Harrison Mills, British Columbia Bright Object Pulsates
UFOs over Otley, Ilkley, Guisley, Burley W.Yorkshire UK
Swartz Creek, MI An Orange Round Light Zig Zagging
Germantown, Maryland A Diagonal Line Of 3 Red Lights
Riverside, California Two Cigar Shaped UFOs
Wellington Telford, UK Glowing Orange Objects/Lights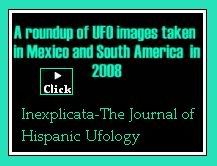 The Vatican and UFOs
Lee Roy Gaitan: Keeping an eye on the sky
Unholyjake's Musings: UFO's in earth history
Flight to Toronto witness sees light exhibit 'unearthly speed!'
Investigating the unexplained or explaining the uninvestigated
Why We'll Never Get Visits from Extraterrestrial Intelligence-lol
Ridiculed about UFO's
Searching for Earth-like planets in alien solar systems
Stephenville: Top local news stories for 2008
Orange Orb: John Podesta: UFO Disclosure
Sight of LAX planes recalls alien invasion excitement
Click here if you want to see both parts 1 & 2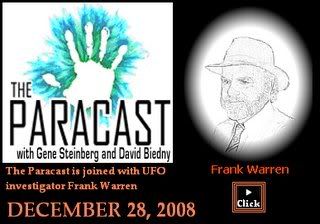 Frank Warren's Website - The Ufo Chronicles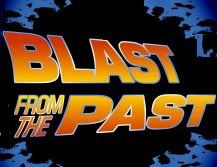 A Catalog of Australian & New Zealand Abduction Cases
A Catalog of Australian UFO Entity & Related Reports
A Catalog of Australian Vehicle & Interference Cases
A Catalog of Australian Physical Trace Cases
Calling all Paranormal Researchers, Authors, Film makers
Psychic Boot Camp? - New Orleans: If you go
BOO, Y'ALL: Try a sojourn in spirited New Orleans
Another ghost sighted along notorious Berks road
Paranormal Team Recognized By Lions Club
Why I became a paranormal investigator
Harvard woman's book took on life of its own: Spirit Seekers
Should I be worried about disappearing objects?
Spirit Visions: Ghosts of Roswell, Georgia
Haunted, Musical Christmas
Ghosts in Our House: Clintonville, WI
The Old Woman Who Passed Through a Car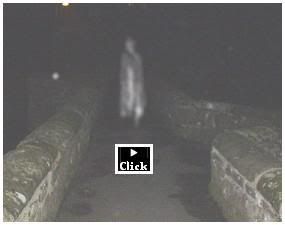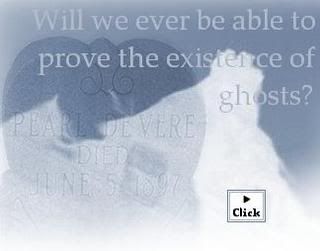 Something Violently Shook My Bed Last Night
The Goblin of Groeslon - True Tales
Don't Be Afraid, It's Only Granny - Your Ghost Stories
Mr. Bell's Ghost - True Tales
2008 April Wind of the Soul
The Law of Attraction & Natural Progression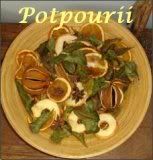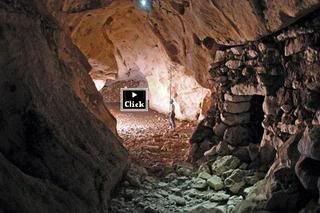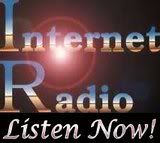 ****

****

****

****

................

See each month at a glance on one page

...
November
...
October
...
September...August...July...June